MPML: Interview with Laura Patterson
by Jeff Winsper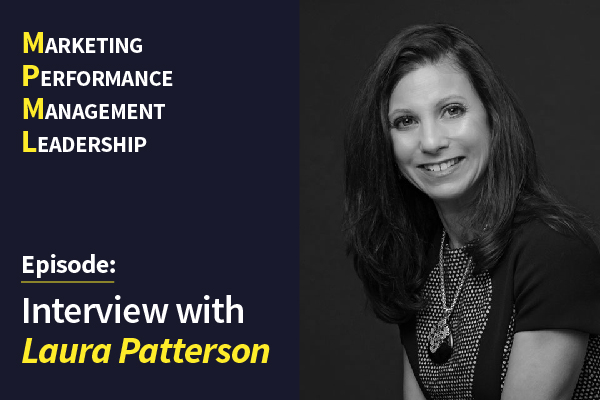 I recently had the chance to speak with Laura Patterson of VisionEdge Marketing, a pioneer for Marketing Performance Management (MPM). I think the first time I heard of her company was from the Forrester Group referencing her annual MPM benchmark survey, now nearly in its 15th year. For any C-suite and marketing practitioner who desires to improve and prove marketing, it is a must read. A real go-getter, she has truly helped many notable companies.
Q: Tell us, what inspired you to go out on your own and start up VisionEdge Marketing. Was there an "a-ha" moment that was the linchpin to make it on your own?
A: For me to answer that question, we need to roll back time just a bit. Take yourself back to the '90s. You're in Austin, TX; a metro area with a population of 800,000 (2,300,000 today). Companies have been popping up like bluebonnets in spring as a result of MCC and the dot-com frenzy. If you can spell marketing, there's a job waiting for you.
So here I am, an experienced marketer, who had come to Austin to work for Motorola Semiconductor in 1982 (Austin metro area population of 600,000) and currently leading marketing for one of the MCC enterprise software spinouts. Marketing analytics, marcom, product marketing, field marketing, sales, and operations are all under my belt. My phone is regularly lighting up with calls from companies looking for this unique combination of marketing, analytics and operations.
So rather than jumping from the proverbial frying pan into the fire, it seemed to make sense to use this "perfect storm" of circumstances as a springboard for creating a company specializing in data, analytics, and process. Hence the creation of VisionEdge Marketing.
This is what we wrote in our business plan and for our first website about the name we chose for our company:
Vision, for the insight revealed from marketing, competitive, and customer intelligence.
Edge, for our passion for the sharp alignment of Marketing and the business as a whole, played out in a customer-centric strategy, positioning, market and customer segmentation, strategy, company/product/service rollout strategies, pricing and channel strategies.
Marketing, for enabling our customers to fulfill the promise of acquiring, keeping, and growing profitable customers by creating, nurturing and measuring their contribution to and impact on business value.
Q: Marketing Performance Management (MPM) now seems be gaining traction as a common term in the industry. When you first started out, did you always call the services and solution you provide MPM or did it evolve as the marketplace matured?
A: Great question. I'd say we were ahead of the curve on the mainstream usage of the term; we were consistently using the term MPM by 2003.
Q: At the recent B2B Conference, you stated that one of the key takeaways from your study is great marketers are business-first thinkers. I agree. All too often marketing tends to think tactics-first activities solve problems. How often do you get phone calls from prospects that think they are business-first, but fall into the latter? And do you have to walk away from the tactics-first marketers because they rarely ever "get it?"
A: Another great question. Since only about 1 in 4 marketing organizations fall into the Value Creator persona category and earn an "A" from the C-suite, only a handful of the calls we receive are with folks who are well into the journey and are "walking the walk." Fortunately, more and more marketers are at least talking about beginning the journey toward marketing excellence.
While its more "fun" to work with those already on the walk, it's extremely rewarding to be along side those taking their first initial steps. Sadly, though, you're correct; there are still about a third of the folks we talk with who are tactics-first marketers. We have found it's not that they don't "get it;" it's more that they are reluctant to do the hard work and make the changes. They may lack conviction, and perhaps are even afraid to "rock the boat." What these folks need to understand is this: if they ever want to get off the hamster wheel, have influence and credibility, and engage in a more "business" conversation with their CEOs, CFOs and leadership team, they need to embrace the journey. Our research shows with statistical validity, that it's only those marketers who "walk the walk" who have the C-suite as their champion. What marketer doesn't want that?
Q: I often find that the change agents who desire to advance marketing are lone wolfs and struggle to sustain and scale change at organizations. Their mind says, "Yes, we need to evolve marketing so it can be our competitive advantage," but sometimes it fizzles out. What can you say about the dynamics of companies you have worked with that have truly evolved into being customer-centric and add business value across their eco-system? Can you site one or two examples?
A: You're right; these initiatives can "fizzle" out. Those organizations that experience success share some common characteristics. First, is their culture. These organizations reflect a culture of accountability. Those efforts that take root survive and thrive in a learning-oriented culture that is open to experimentation and innovation.
Marketers that succeed know how to manage and implement change. It's not about size or industry or geography, it's about a passion to excel. These cultures are active rather than passive; the culture reflects people who are engaged and collaborative not defensive and aggressive.
Here's a top 5 list of what we see the Value Creators have in common. They…
1. …know what metrics matter and how to measure their contribution to the business.
2. …excel at using data and this data reflect their business acumen.
3. …are skilled at setting performance targets for marketing objectives, programs, and tactics.
4. …create more actionable and meaningful dashboards.
5. …develop strong analytics skills and a rich robust models library.
On our site, http://visionedgemarketing.com/, we have a number of case studies in which our customers share what they've accomplished and how they did it.
Q: As you know, Black Ink ROI is an advanced, customer-analytics platform to help companies discover, capture and optimize net, new revenue. Companies desire to have the truth about the "complete customer" to aid work streams across sales, finance, marketing and channels. From your experience, what are some of the more recent trends on how companies are embracing data, analytics and metrics?
A: Jeff, I agree that it's Marketing's job to keep the focus on the customer front and center. Companies must be customer-centric to be sustainable and competitive. Everything we do in Marketing must enable the exchange of value between the customer and the company. We are seeing an increased use of data and analytics to help identify new market opportunities, develop innovative products/services, deepen the understanding of customer behavior and experience, and gain a competitive advantage and market differentiator.
Q: Speaking of marketing analytics, in your entire career have you seen such a comparable sea-change that is rocking the boat as we are now experiencing?
A: Jeff, before I answer this question I believe we need another quick visit down memory lane. Since the 1980s, the purpose of analytics has been relatively constant: "enable fact-based data and insights-driven decisions." In the 1980s, we called this capability decision support – we were enthralled with the idea that we finally had computers that could analyze and present data. The 1990s ushered in the age of the data warehouse and wow! What exciting new avenues that opened up!
In the 2000s, we are all about business intelligence which leads us into the world of performance management – using analytics to create dashboards, and using planning tools to make smarter decisions and optimize performance.
I try to avoid sounding like a dinosaur, but maybe my personal story will put things in context. My first "real" business job entailed using data to create customer profiles and lifecycle/lifestyle segments, developing a products/services per customer model, etc. It was all about data.
I literally had to go through every manila file folder and manually collect and code the data, create a manual spreadsheet, and so on. So imagine what it was like when I was finally in a company where I had a dumb terminal on my desk and could submit queries to "MIS" and receive feedback that we could then input into spreadsheets- sweet!
And what a sea change PCs and Excel created. The same can be said for customer and market research. Before the Internet, any market and customer research I needed were conducted using mail-in surveys, in person focus groups, or telephone interviews. Now we can do instantaneous digital surveys and polling online that automatically populates a database ready for analysis.
Yes, the tools are improving, the amount of data we can access is increasing, and the rate at which we can analyze data is growing. Sounds good, right? But what I am actually seeing is a lack of strategy, poor execution, and slowdown in efficiency and progress. Because it is so easy to "throw" up a survey and "anyone" can do it there are research design flaws that play out in the analysis. And more time is being invested in trying to figure out the overwhelming data collection and analytics landscape, they are actually slower to act, and when they do act trying to do it on their own since they have made these investments, they don't necessarily have the skills, so it results in what we use to call "analysis paralysis." They can't move from the data and analytics phases to the insights and action phases.
Q: I think you tend to attract B2B clients. Often B2B companies feel like they need to learn from B2C and apply it within their respective category. I am not so sure that is always the best approach, as I believe B2B is far more challenging to execute even with using the same marketing principles. What do you think B2C companies can learn from high performing B2B marketers?
A: We take a different view. Rather than distinguishing between B2B and B2C we separate these marketers by the typical buying journey. Our customers tend to be organizations that provide complex solutions that require a consultative buying process involving multiple decision makers as opposed to marketers who have a more transactional product/service that entails minimal risk to purchase and a simpler decision-making process requiring a single point of contact.
The former group of marketers can benefit greatly from the latter, because the latter really understand the importance of differentiation, positioning, and branding. I think about how important these attributes were when I selling office supplies to office managers – I mean paper is paper right? And the latter group of marketers can learn a lot about engagement and personalization from the former.
Q: What advice would you give to new marketers starting out in this field?
A: Don't chase "shiny toys." All MarTech tools have an upside and a downside. They can improve and enhance the way we work. But the downside is this: they are potential substitutes for humans. Therefore it is vital that marketers need to be business people first. What's that mean? For example, always start every analytics endeavor knowing what business decision your organization needs to make and what information they need to make this decision. This should be your beacon. In the words of my friend and colleague, Theresa Kushner, Vice President, Information Innovation Center, "think about how the insights you derive from the data and analytics will help the business at every turn."
We have two white papers on our site that seem to be popular that your readers may find helpful:
• Intuition To Wisdom: Transforming Data Into Models and Actionable Insights
• Marketing Analytics Centers of Excellence – Fueling Corporate Growth
Q: What do you think might be the biggest disruption in marketing ahead?
A: There are three major "global" disruptions I believe will affect marketers, business people, and consumers:
The continued convergence of social, mobile, cloud, big data and growing demand for anytime, anywhere access to information enabled by the "Internet of Things" is going to create wonderful market opportunities, new products, and new business models, as well as increased privacy and security issues.
The war for talent.
Growing concern over environmental degradation while the demand for resources is increasing.