How to Leverage Your Website to Gather More Customer Data
by Black Ink Team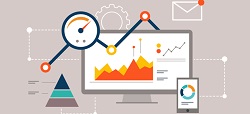 When people go to outdoor power equipment, powersports, and marine dealerships, they expect to speak to knowledgeable salespeople with expertise on each product in the showroom. In 2019, that expectation is starting to extend to the dealership's website as well. Thanks in part to the 'Amazon effect' – or, the ongoing proliferation of ecommerce – consumers today have high expectations for your business's online presence. If they can't find a certain product or service on your website, chances are they won't make the trip to your store to find out if you actually have it.
In response, dealer websites can no longer be static, lackluster pages that just display basic information like the store's location and hours: They are rapidly becoming sophisticated platforms on which customers can conduct thorough research, find in-depth product information, and even schedule maintenance appointments. Furthermore, through their websites, dealers are now able to engage with and learn about their customers in many new and powerful ways.
A sleek, functional dealer website thus offers two major categories of opportunity: Branding (the external) and data collection towards improved operations (the internal).
To the first: Brand management starts with being seen, and while we've outlined that means having an online presence in general, a customer still needs to find your URL. Web traffic can come from many sources, from direct URL inputs in the address bar to paid ads to 'referral' links embedded in emails, blogs, or social media posts. The largest source by far, however, is 'organic' traffic from search engines. According to a 2018 study by BrightEdge, a leading SEO (Search Engine Optimization) platform provider, 50.1% of web traffic comes from organic search. That means that for your brand to exist in 2019, it needs to exist online; and in order to do that effectively, it needs good search results, or SEO. Common techniques to improve SEO include optimizing your website's code to work with search algorithms, building a following on social media to increase search volume, and ensuring your site content is accurate and includes useful links and keywords related to your business and industry.
Once people have found you online, branding continues into the user experience on the website itself: What can they find out, what can they do, where can they go, and how enjoyable is the experience? Building a high-quality website to address these questions may sound challenging and expensive, but today there are many easy and affordable options, such as Wix, Shopify, or Squarespace. Some are even designed specifically for dealerships. You can use these platforms to add your logo, design a color scheme, and write a mission statement to frame up who you are and what you do. Create a 'Products & Services' page to allow customers to find anything and everything available at the dealership, before they get there. You can also link in your social media profiles, contact information, and any third-party vendors. The goal should be to connect your entire online presence and brand identity in one place.
With the external taken care of, we can now look to the internal: Beyond how my business is seen, how can I leverage my website to enhance how my business is run? Much like a combine to wheat, websites harvest data, and with each click a given visitor tells you something about themselves that can be acted upon. For instance, if you separate your inventory into 'Homeowner' and 'Professional' categories, you can analyze the relative frequency of visits to each page, and adjust either your marketing or merchandizing accordingly. More detailed information about individual customers can be gleaned through fill-out forms: Allow customers to automatically submit questions, comments, service requests, or even demo requests, and require a field for emails or phone numbers to build up your contact database. Maybe include some fields on who they are as well: Are you a homeowner, landscaper, contractor, crew member, or municipal / county / state worker?
The web browser itself also gives valuable information: 'Cookies' are small files which get created on someone's device when they visit a website for the first time. Every time they check a box, fill out a form, or sign up for notifications, the cookie is altered so their preferences will be saved. Through easy-to-use web development tools, you can view cookies in aggregate to glean insights and improve your sales processes.
Once the data is collected, you can streamline the organization of information by having your website 'talk' to your other software products. Most CRM and DMS solutions include APIs (Application Program Interface) to automatically receive data. Combining cookies with CRM data, for instance, can be powerful by measuring how many touchpoints on average each customer experiences before making a purchase. Social media platforms make it their business to naturally integrate with your website, too. Using all of these tools together lets you deliver a hyper-personalized experience to each customer who uses your website.
Finally, if your CRM or DMS is a web-based program – meaning they are accessed through a browser – you can connect with your website to address operational issues. You can have someone build a custom webpage which generates parts lists for specific models – and automatically updates those lists based on your DMS. Create financing forms for customers to fill out on the site, and then pass that form to your CRM to keep track of that customer's purchase and financial history. Web-based programs also have the advantage of ease of access: You can use it on multiple devices, such as smartphones, and you don't have to worry about the device's processing power since the computing is done on a server. Suddenly, the front-end and back-end of your business are much closer together.
In all, a modern website is essential for the modern dealer: Use your web presence to reach customers, build your brand, streamline processes, and, importantly, better understand your customer base to optimize marketing and merchandizing strategies. As we'd say here at Black Ink, a good website will truly help you sell smarter and faster.