EyeOn Suite Feature Highlight: Geo-Mapping
by Black Ink Team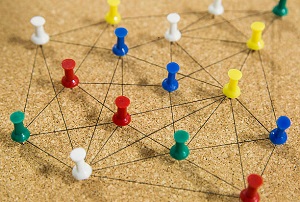 The EyeOn suite's geo-mapping function allows OPE manufacturers, distributors, and dealers to quickly identify marketing and sales opportunities. Our solution links your data across modules so you can instantly plot customers, dealers, and other points of interest to understand your market, find the gaps within it, and take action to ultimately increase sales and customer retention. You never have to spend extra time fumbling with spreadsheets and building reports, because all the meaningful data is right at your fingertips.
The display is highly interactive, with pre-built datasets across State, County, ZIP, and custom geographic breakdowns. Plotted points can also be filtered across standard and custom drop-down menus, including time, dealer type, customer type, and model: For instance, within seconds, an OPE distributor could visualize homeowner buyers who purchased backpack blowers from hardware dealers in 2018 – county by county, state by state – and compare that performance across time. Plus, graphs and tables next to the map will show statistics such as demographics, market penetration, and Year-over-Year sales.
In addition to understanding market trends, the geo-map allows you to deep dive to identify and fill in gaps within your customer base. Distinguish, for instance, existing customer development (upsell/cross-sell) opportunities by category or model: Perhaps, in this group of homeowners buying backpack blowers, you discover through EyeOn that the number one also-sold product for Smith County is a hedge trimmer. In that case, pull a list of homeowners in that county who have not yet bought a hedge trimmer for a targeted marketing campaign.
Other gaps could be spatial: What counties and ZIPs have low or slowing blower sales, where I could target an ad for that model? Or, what counties or ZIPs have a large market with low penetration where I could put a new dealer – and what insights on market gaps could I share with my existing dealer to justify that new location?
Once those gaps are identified and checklist items found, it's time to act. Talk with a struggling dealer to highlight areas for improvement based on trends in the area; add that new dealer, armed with objective data to back up the decision. Through EyeOn Promotions, you could even track the status of individual reach-outs and group demonstrations, from initial touch to net-new purchase.
Finally, in addition to your own data, you can overlay pre-built variables such as population shifts, income changes, and single unit dwellings across all 42,000+ zip codes to determine the best place for you to set your sights. Our approach is "data first, software second" – so if you have a data set that you'd like to view geo-spatially, we are happy to work that into development.
On one application, you can study the market, find who to pitch and where to focus, and plan out your route. With EyeOn's Geo-Map, you can truly sell smarter and faster.